Hendersonville Annual Events
Cider, Wine & Dine Weekend
Held each year in April, the annual Cider, Wine & Dine Weekend, Henderson County wineries and cideries partner together to create a signature weekend surrounded by all things cider, wine and food! It is an action-packed weekend filled with artisan hard cider, award-winning wines, new releases, grand openings, a variety of food, educational programs, live music, facility tours, friendly faces and much more.
Henderson County's rich history in agriculture and wonderful climate makes the area ideal for the growing of a variety of apples and grapes. Henderson County is home to North Carolina's newest wine country, the Crest of the Blue Ridge American Viticulture Area (AVA). Area wineries produce classic wines from European vinifera grapes and French-American hybrid grapes, as well as sweeter wines crafted from grapes native to North Carolina.
There are several types of transportation options available for hire in the Hendersonville area, including taxis and private Transportation Companies.
The Garden Jubilee
The Garden Jubilee, one of the largest gardening shows in Western North Carolina, is held annually on Memorial Day weekend. More than 200 plant and craft vendors line Main Street, from Sixth Avenue to Caswell Street, transforming the historic downtown area into a seven-block garden wonderland.
The two-day garden & plant extravaganza features local and regional nurseries selling thousands of annuals, perennials, vegetables, herbs and hard-to-find plants. Crafters will offer distinctive garden art, and there will be handmade lawn furniture, jewelry, garden tools, planters, wind chimes, birdhouses, soaps and pottery. Visitors can also learn the latest techniques and tips from gardening experts located throughout the festival.
For additional information about Garden Jubilee, call the Henderson County Tourism Development Authority at 828-693-9708.
Music on Main
The Annual Music On Main concert series is held every Friday evening from May through August at the Visitors  Center, 201 South Main Street in Downtown Hendersonville, NC. Bring a chair and sit back, relax and enjoy the music from 7-9 pm. The seating area opens after 5:30 pm; early admission is strictly prohibited.  Admission is free. The evening will also feature a car show hosted by the Carolina Mountain Car Club.
Music on Main features a diverse line-up ranging from pop, oldies, rock, to contemporary music – there's something for every musical taste! The family-friendly event offers concessions such as hot dogs, ice cream, pretzels and lemonade for sale.
The Rhythm and Brews
The Rhythm & Brews Concert Series brings together live music, local craft beverages, and the community! These FREE shows take place on the third Thursday of every month from May-September, closing part of South Main Street to make room for all the fun. Local food trucks will line the street cooking delicious eats from kettle corn to pizza to barbecue. Each show begins with an opener at 5:30 p.m. followed by the headlining performance from 7:30-9:30 p.m.
Doors open at 5:15 p.m. Bring your own chair, and your dancing shoes!
Kid Zone will provide kid-friendly activities. Featured drinks will include the craft brew styling of Henderson County's own Sierra Nevada Brewing Co., Guidon Brewing Co., Oklawaha Brewing Co., Dry Falls Brewery, Saint Paul Mountain Vineyards, Flat Rock Cider Company and Bold Rock Hard Cider. Food will be available for purchase from local food trucks. 
Located on South Main Street between Caswell and Allen Streets, the shows will once again feature some great local brews alongside the best concert line up in Henderson County.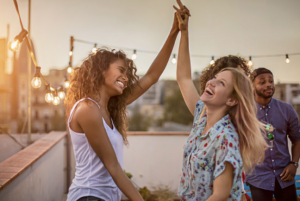 Monday Night Dance on Main
Start your week off right with the Monday Night Live concerts! Every other week, listen to an eclectic line-up of live folk, country and blues musicians at the Visitor Center in Hendersonville.From May through August. Bring a chair and your dancing shoes!
The Antique Show
Held along several blocks of Downtown Hendersonville, the Antique & Vintage Show, is held the end of June and the end of August along Main Street, an open street activity with Main Street being closed to vehicular traffic to encourage shopping, dining and enjoying downtown. This annual event attracts a variety of dealers from around our region and beyond to the streets and sidewalks of Main Street in Historic Downtown Hendersonville. Complementing the year-round presence of antique and home goods stores that call downtown home, customers will find a great variety of vintage, handmade, rustic, mid-century, industrial, up-cycle, collectibles, antiques and other wares.
The Apple Festival
Hendersonville is the official home of the North Carolina Apple Festival, a four-day celebration to recognize the importance of the apple industry to Henderson County and North Carolina.  The Apple Festival is always held during the Labor Day weekend (Friday through Monday). Festival-goers can choose from a variety of events that feature a street fair on Historic Main Street and surrounding event venues.
Some of the other festivities happening during the Apple Festival include apple breakfasts, Gem & Mineral Spectacular, children's activities, and the Western North Carolina Air Museum Open House.
North Carolina is the 7th largest apple-producing state in the nation and Henderson County is the largest apple-producing county in North Carolina, producing 85 percent of all the apples grown in the state. The County grows more than 40 varieties of apples including; Red Delicious, Golden Delicious, Rome Beauty, Honey Crisp, Granny Smith, Stayman, Fuji and Galas.
Farm City Day
Farm City Day, held in October, features both urban and rural displays, antique and modern farm equipment, tools, live music, square dancing, clogging, arts and crafts, children's activities, old timey games, wagon rides, displays, demonstrations, tractor pulls hands-on activities, and plenty of food. Animal lovers will enjoy the petting zoo, and a fishing pond. The old-timey games include an egg toss, sack race and corn shucking. Jackson Park comes alive with the sights and sounds of live regional bands, dancers and singers performing throughout the day.
Farm City Day was started in 1955 by the Cooperative Extension Service and Kiwanis International.  The Festival highlights the dependency of farm people and city people on each other for products and services essential to modern living.  The Farm City program was designed to encourage the exchange of ideas and development of shared activities creating a feeling of mutual understanding and good will. In 1986 Farm City Day was moved to Jackson Park.
Whether you're city folks or country folks, Farm City Day will fill your day with fun for the whole family. Call the Henderson County Cooperative Extension Service 828-697-4891
North Carolina Mountain State Fair, held in September at the  

Western North Carolina Agricultural Center in Fletcher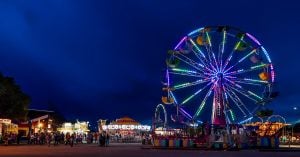 The Mountain State Fair celebrates the heritage of the Blue Ridge Mountains, including agriculture, music, crafts, art, food, entertainment, display of livestock, and competitions.
The focal point of the Fair is the Carnival Midway, featuring over 40 rides and numerous games for all ages. The staple of the Fair is the many competitions that offer North Carolina's best in livestock, creative arts, farm products, and school projects.  Old-timey demonstrations are given, ranging from molasses making, blacksmithing, pottery, and needlework to basket weaving. Agriculture runs deep at the Fair during the 10-day run, with more than 4,000 animals, including dairy and beef cattle, sheep, pigs, goats, chickens, rabbits, and llamas. Music fills the air at the Fair with sounds of Appalachia as bands perform nightly on the Heritage Stage. The entertainment lineup includes music, acrobatics, magic shows, and animal acts just to name a few. The Mountain State Fair is the best source for family entertainment.
Click for hours and admission charges NC Mountain State Fair or call 828-687-1414.
Home for the Holidays 

November 1,  2021 – January 1, 2022 

Hendersonville
Check the Home for the Holidays event calendar at the bottom of the page for times and locations of a variety of events or click on the calendar for a complete listing.
Come "Home for the Holidays" and experience the holidays with small-town charm, sprinkled with excitement for the entire family. Let Hendersonville become your Hometown during the Holiday season.
The unique stores along Main Street are decked out with Christmas decorations for the season. Large wreaths with big red bows hang from streetlights, along with twinkling lights and decorations in the planters that line the serpentine street.
The holiday season, with its many traditions, family gatherings, and good cheer, will soon be upon us. Rediscover this magical time of the year and create cherished memories to last a lifetime. Catch the Christmas spirit in Hendersonville and pass it along. Be sure to explore the complete listing of holiday events happening in Western North Carolina.
Make your holiday reservations soon! The 2021 Holiday Dining Guide offers a list of restaurants open during the holiday season and Lodging Information.
Click for a Complete Restaurant Guide, which includes addresses, websites, and telephone numbers.