The Fourth of July Celebration is an annual event in Hendersonville.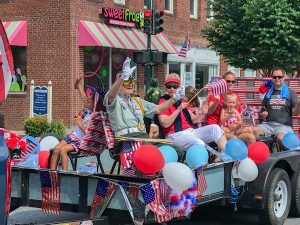 Henderson County launches an annual Independence Day fireworks display at sundown from South Grove Street. The fireworks can be viewed throughout downtown Hendersonville as well as the south side of town; if you're able to see the "Big Red Balloon" that goes up during the day then you'll have a good view of the fireworks!
The sparkling fireworks display starts between 9:15 pm and 9:30 pm and will be synchronized to music on local radio station WTZQ, found at 1600 AM on the dial.
The Independence Day Parade in downtown Hendersonville begins at 10:30 am. The parade will span from Caswell Street to 6th Avenue. Main Street from its southern intersection with King Street to 6th Avenue will close at 8 am with no parking permitted along the parade route starting at 8 am. Traffic will still be able to traverse the avenues until 10 am when they will close in preparation for the event.