NC Homeowner Assistance Program
Established through the American Rescue Plan of 2021, the NC Homeowner Assistance Fund was created for homeowners in North Carolina to help prevent mortgage delinquencies, defaults, displacements and foreclosures due to COVID-19.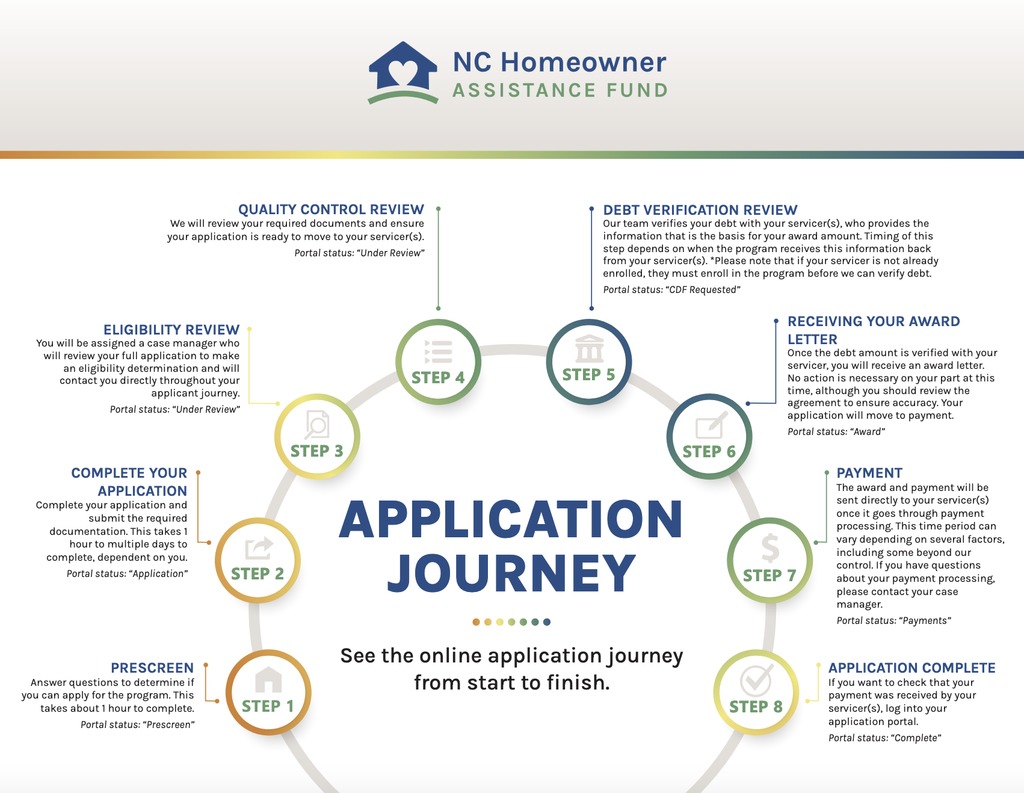 Step One: Prescreen
You'll start your application journey with a pre-screen.
This pre-screen will determine initial eligibility to apply for the program. The pre-screen will ask you questions to make sure you are a homeowner and live in your primary residence located within North Carolina. This pre-screen typically takes about an hour to complete.
This step occurs while in the "Prescreen" status on the application portal.
Step Two: Complete Your Application
If you are deemed eligible, the second step is to complete your application and submit the required documentation. If your application is "currently in progress" but not completed, this may slow down your timeline. The application process can range from one hour to multiple days and is all dependent on you filling out your specific information to submitting the necessary documentation.
This will be the "Application" status on the application portal.
Step Three: Eligibility Review
Once your application is fully completed, you will be assigned a case manager who will review your full application and supporting documents to ensure they have sufficient information to determine your eligibility for assistance. Your case manager will contact you directly, request any additional documents needed and remain in communication with you throughout the duration of your applicant journey.
This step occurs while in the "Under Review" status on the application portal.
Step Four: Quality Control Review
Once your eligibility review is complete, your file will move to quality control review. Quality control means we are reviewing all your required documents and making sure we have everything we need to move your file forward to your servicer(s).
Please note this step also occurs while in the "Under Review" status on the application portal.
Step Five: Debt Verification Review
The next step in this journey is the funding approval process. During this step, our team will work with your servicer(s) to verify the debt to be paid to the servicer(s). We verify your debt based on your specific assistance requests (e.g., mortgage, insurance, HOA), which is a critical step in the application process.
Once your servicer(s) provides your specific debt information, NCHAF will determine your award amount. Unfortunately, NCHAF cannot reassess or change this award amount once it is received from your servicer(s) unless the servicer(s) submits a change or update.
Please note: Processing your application is dependent on receiving correct information back from your lender and/or service provider(s). The length of the debt verification process may vary by service provider depending on their responsiveness and their own internal systems and process.
Our process for verifying mortgage delinquencies is called the CDF process. This is used nationally by all state HAF programs and lending companies to ensure accurate information regarding several pertinent details including your loan number, debt amount, accrued fees, payment instructions and other relevant information that allows funding to be applied correctly to your debt and account.
Non-mortgage delinquencies are also verified through the account servicer.
*Please note that if your servicer is not already enrolled in the program, we will need them to enroll before verifying debt. Servicer enrollment will impact the length of your waiting time during this step of the process. You can find a list of servicers already enrolled in the program here.
Step Six: Receiving Your Award Letter
Congratulations, you will now receive an Award Letter as your application is moved to payment processing! This letter will include the amount of funding you will receive, which is based on the amount of debt as verified by your servicer in Step 5. There is nothing actionable for you to do for this step other than reviewing the assistance types and amounts for any discrepancies. If you do see anything in your Award Letter that looks incorrect, please contact your case manager or call our Call Center at 1-855-696-2423 for assistance.
Step Seven: Payment
The award and payment will be sent directly to your servicer(s) once it goes through payment processing. This time period can vary depending on several factors, including some beyond our control. If you have questions about your payment processing, please contact your case manager.
This step occurs while in the "Payment" status on the application portal.
Step Eight: Application Complete
If you want to check that your payment was received by your servicer(s), log into your application portal.
This final step occurs while in the "Complete" status on the application portal.